COOLSCULPTING
CoolSculpting® is a fat-reduction treatment for men and women who want to get rid of stubborn pockets of fat in certain areas of their body. CoolSculpting® is NOT a weight loss procedure. CoolSculpting® is a nonsurgical alternative that has little to no downtime.
COST AT CONSULTATION
TypeCoolSculpting is a non-surgical, fat reduction procedure. It is safe, FDA approved and delivers great results! CoolSculpting uses controlled cooling to target, crystallize and PERMANENTLY remove fat cells.
What makes it unique is that it only affects fat cells.
Those fat cells die and are gradually removed from your body through its natural, metabolic process.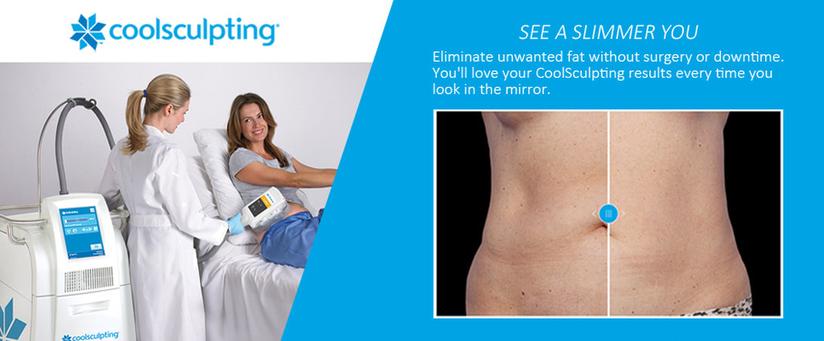 How Does It Work?
A brief consultation is scheduled beforehand to evaluate if a person is a good candidate for CoolSculpting and to see which areas are in need of treatment.
Upon treatment, an applicator is placed on the area that is to be treated. The applicator pulls the fat bulge between its panels, and then precisely cools the tissue. There is a slight pulling and tingling sensation that subsides in 1-8 minutes, as the area becomes numb. The goal is Cryolipolysis: the destruction of fat cells with cold.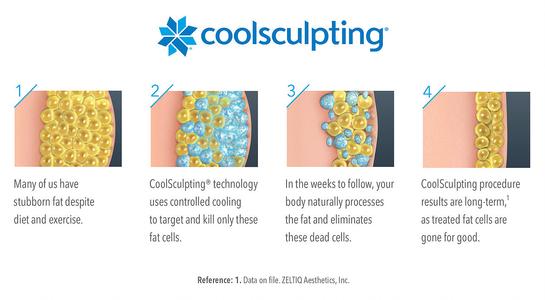 How Long Does it Take?​
Approximately 1 hour per applicator. Can receive multiple applicators in one day, length is dependent upon consultation recommendation.
What Can I Expect After?
After the applicator is removed, the area will temporarily feel cool & firm. Technician will administer a light massage to the tissue. Some people experience tenderness & soreness. These side effects naturally resolve in 2-3 weeks.

Skin Science is the ONLY medical spa that has implemented a new protocol that couples CoolSculpting with our Venus Legacy treatments. Venus Legacy treatments are complimentary with our CoolSculpting treatments. This technology uses radio-frequency energy that warms the tissue, helping the body metabolize the frozen, dead cells faster. Also, Venus Legacy treatments will help the after effects (like bruising & tingling) subside quickly, if felt at all.
There is NO DOWNTIME to CoolSculpting, so most people return to their normal activities immediately after treatment.
When Do I See Results?
CoolSculpting has an average fat reduction of 20% in treated areas. Results gradually develop over time as the body naturally expresses the waste. Dramatic results are seen in 1-3 months.
You will start to see results after a single procedure, but you may decide that additional procedures are needed to get desired outcomes.